Switch over to high-performance fibreglass roofs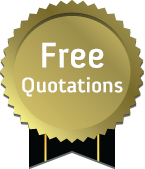 Is your house, garage or outbuilding suffering from an ageing, rotting and leaking flat roof? Then why not change all that and safeguard your Portsmouth home or office premises by switching over to a high-performance, stylish GRP (Glass Reinforced Plastic) fibreglass roofing systems, installed by us.
Fibreglass roofs are available in a diverse array of stylish colours and textures, to complement your exterior decor. Moreover, they are maintenance-free and can last for an amazing 100 years, outliving most other roofing systems.
The shape and size of your roof in Portsmouth will not be an issue to fit a fibreglass roof, as we can easily install pipes, vents, walls and skylights within the membrane of the fibreglass roofing system, without the need to create seals or joints.
Our certified fibreglass roofing solution is backed by a 25-year guarantee
We offer a whopping 25-year guarantee on fibreglass roofs - an assurance that you are benefitting from a high quality product. You also enjoy additional benefits, which include:
1000+ classy colour and texture options
Long-lasting, 100-year lifespan
High foot-traffic tolerant flooring
Environment-friendly design features
Fire retardant and UV resistant
Maintenance-free roofing solution
Call us today to know more about our fibreglass roofing solutions, as well as to enjoy free estimates, on 023 9383 8272.