Enjoy long-lasting felt roofing solutions for your flat roofs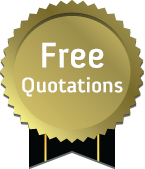 If you have flat roofs such as terraces and balconies in Portsmouth, felt roofs are an ideal roofing solution for covering these flat surfaces. We're expert roofers who blend superior quality felt with highly skilled workmanship, to create long-lasting felt roofing solutions that can withstand heavy foot traffic.
Whether you need felt roof repairs or refurbishments, you can rely on our professional roofing team to create a durable, waterproof barrier that will not peel-off or degrade.
Benefit from free estimates on all felt roof repairs and installations
However small or large may be your felt roof repairs or installation requirement, we are happy to offer you a free estimate. We will survey your premises to provide you with an accurate felt roofing estimate.
Whether you have domestic or commercial felt roof repairs or installation needs, there are several reasons to opt for felt roofs, including:
Affordable, readily available felt roofs
Seamless flat roofing coverage
Feasibility for large and small scale applications
Weatherproof, durable and crack-resistant
Ideal for flat roofs, pitched and curved roofs applications
Ease of installation and maintenance
We are available on-call to discuss your felt roofing requirements. If you're uncertain of your needs, why not call us today on 023 9383 8272 and we'll provide you with a free, no obligation roof consultation service, no matter which PO postcode you're in.